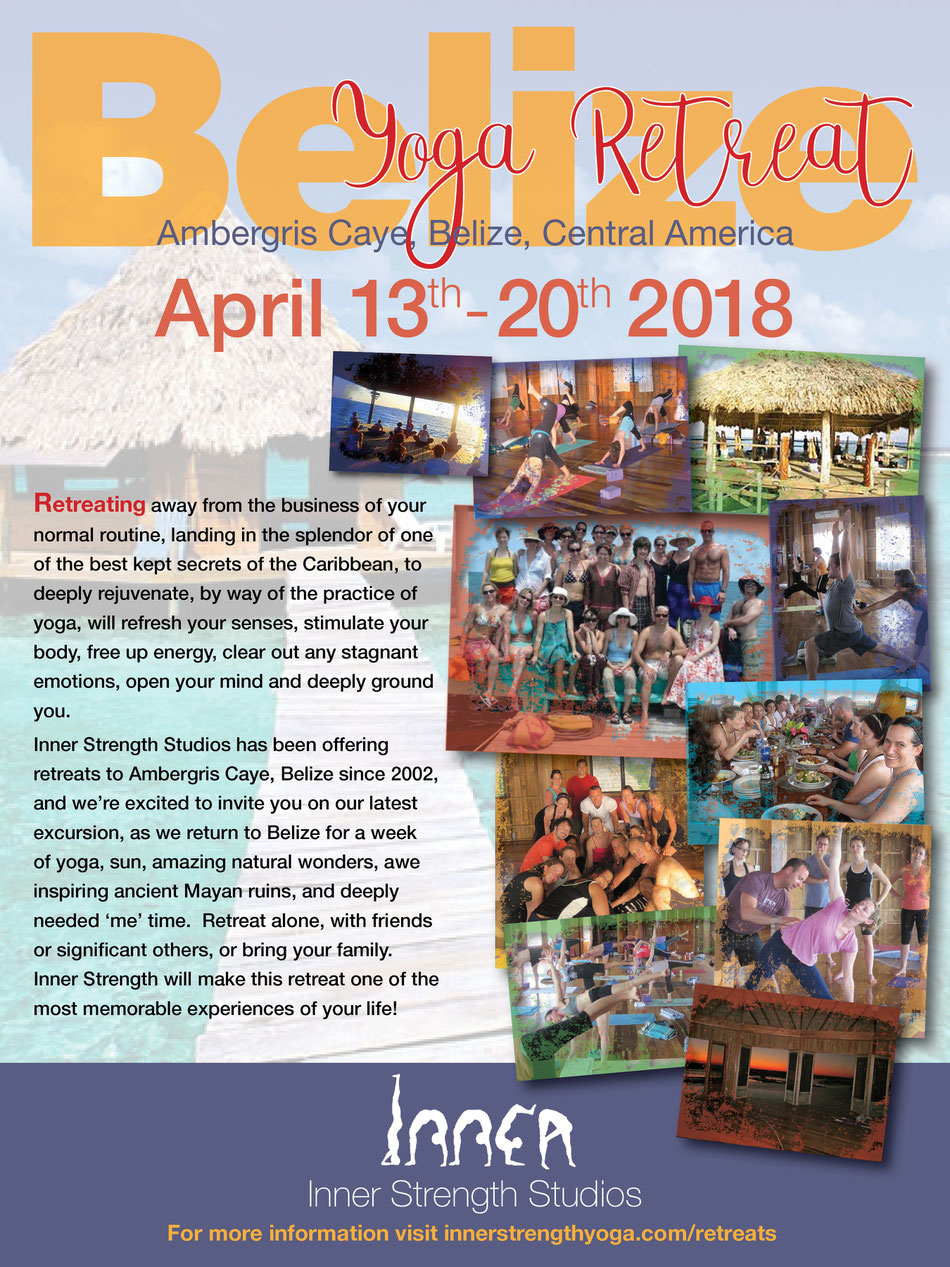 ---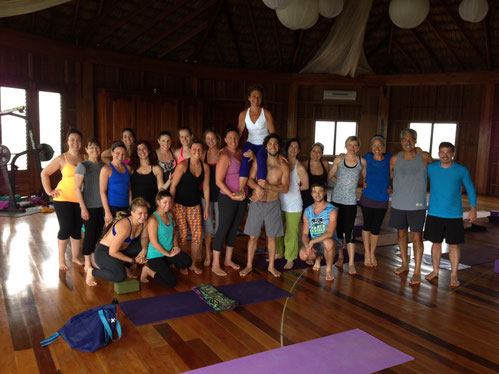 Since 2002, Inner Strength Studios has taken students from our studios, and from around the world, to one of the best kept secrets of the Caribbean. I'm excited to introduce our latest retreat to Belize, April 13th - April 20th, 2018.
---
Each day will be a perfect balance of yoga and relaxation.  There will be two optional yoga sessions offered daily. One in the morning to welcome the day, and one in the late afternoon to see the sun as it sets.  There will also be a full 'free' day for you to enjoy the amazing excursions. 
During your free time there will be countless activities:
Sea kayaking

Snorkeling

Infinity pool

Bike rentals

Golf cart rentals

Fishing

Diving

Parasailing

Local shopping

Sailing

Exploring

 
You can click here to see 'what to do when in Belize'.
Your accommodations will be steps away from all you need to make this trip one of the most memorable of your life.  Within your spacious lodging you'll have Wifi, cable television, small kitchen, bathroom.  Below you can see an amazing view of the individual buildings, pool and breathtaking view of the Caribbean Ocean.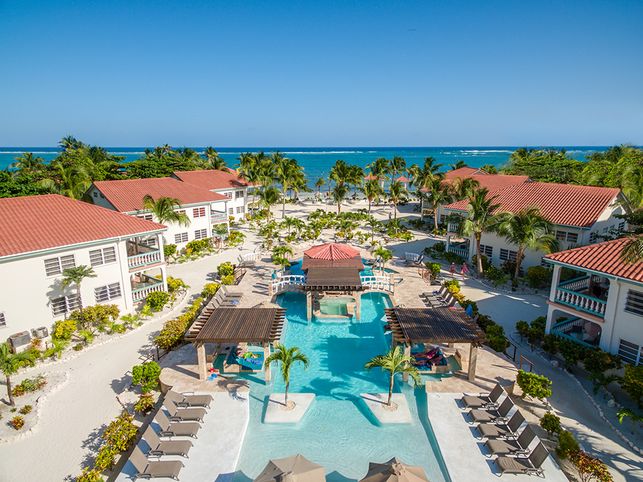 "Every now and then go away, have a little relaxation, for when you come back to your work your judgment will be surer.  Go some distance away because then the work appears smaller, and more of it can be taken in at a glance..." ~Da Vinci
You will need a valid passport to enter into Belize.  The Belize International Airport code is BZE.  If you'd like to come a day or two before the retreat and stay a day or two after, you will need to coordinate that with us before you purchase your airline tickets.  
Inner Strength is here to walk you through every step of the way to amazing Belize April 13th - 20th 2018.
Tuition Includes:
All Yoga instruction

Lodging

Flight transfers to and from Belize International to San Pedro 

Boat transfers from San Pedro to Belizean Shores Resort

Breakfast, lunch and Dinner (except...the 'free day' where you'll be responsible for your lunch and dinner)
Single $2400 (Enjoy a spacious beach level room all to yourself)
Double $1950 (Share a spacious beach level room with a roommate)
Triple $1725 (3 share a spacious upper level room)
Quad $1550 (4 share a spacious upper level room)
In order to secure your spot, Inner Strength needs either full payment or a $500 deposit.
All deposits and payments are non refundable and non transferable. 
NOTE:  You will be responsible for your international airline tickets (As of 9/26 they are as low as they're going to be...these airline tickets tend to increase in price the closer to the departure date you purchase them) There is also an 'entry' fee and 'exit' fee that the Belize Government charges upon departure that you will be responsible for.
In Belize, United States currency is excepted.  Once you secure your spot, we will send you a price list of 'extras' you may want to bring extra cash for.
I'm sure you have questions, please email us so we can assist in getting you to Belize!
Below are actual photos of the different room options. 
---
"My trip to Belize was so life altering...I could not have imagined that I would find such a place of peace, calm and serenity not only at the physical location but within myself.  After only practicing for 2 months before the Belize trip, I found myself traveling to Belize with a lot of fear...We all need to take time to be with ourselves for when we return, a new day, a new focus and a new sense of self comes back with you that carries you through the ups and downs of life." Annette L
"After moving to North Carolina and not being able to find a studio like Inner Strength, when I received the email for the Belize Yoga Retreat, I immediately began planning.  I am so glad I did.  Belize is amazing and if you like the classes at Inner Strength, you are going to LOVE this retreat.  Roman and his team organize a very pleasant experience.  I feel like a new me since I've returned.  I could't recommend this retreat more."  Dennis P
"As a former participant, I encourage you seriously to consider Roman Szpond's Inner Strength Studios retreat in Belize.  NO, I take that back:  YOU MUST GO to Belize with Roman and his team!  My experience in Belize with like-minded participants and Ro exceeded expectations in every aspect:
1)  Roman's leadership, amazing yoga/meditation instruction, and easy-going manner making shifting into your growing edge very accessible.
2)  This retreat is absolutely and 'all levels' experience: from newbies to yoga teachers - all benefit.  If you think this retreat may allow you to work through something that's been holding you back from becoming your true self, then just go and it will happen.  Or if you think you really don't have anything to work through, get ready to discover the person you always wanted to be bur until Belize have just settled for less.
3)  The food is excellent and the accommodations are most comfortable - everything is right there.
4)  There's ample time to relax in the pool or soothing ocean, and those participants you didn't know before will soon become your new friends.
5)  April is the perfect time to get away; to immerse your relaxing self in the process of getting clear, confident, and true.  You WILL make it happen in the practice - Roman is a skillful facilitator, and you will be amazed!!
-Mike Bousaren
---
---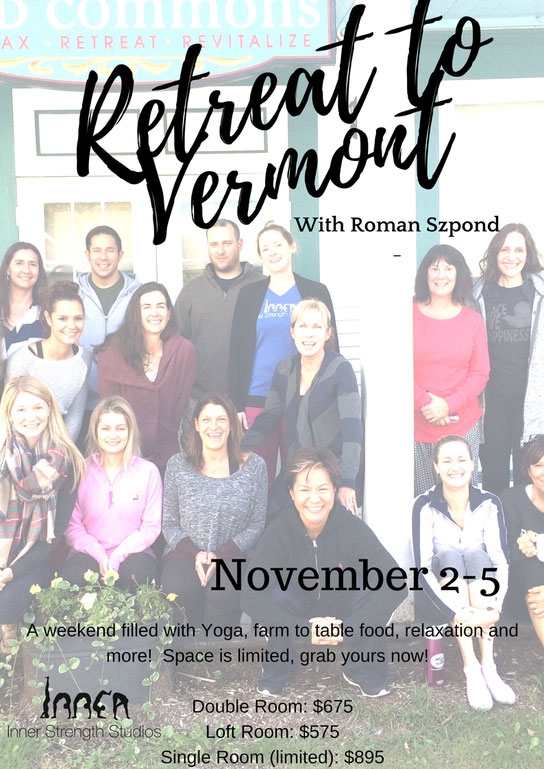 Our annual Fall Vermont Retreat is one of our favorite times of the year!  Enjoy twice daily yoga sessions, relaxation, good company, amazing food and more!  Lead by the powerful Roman Szpond, you will enjoy Thursday-Sunday at the Good Commons Retreat Center in Plymouth Vermont.  This Retreat will fill up quickly and space and rooms are limited, so sign-up online to reserve the room of your choice! 
Room Choices:
Loft $575
Double Room $675
Single Room $895 (very limited availability)
The schedule is approximate, but beginning Thursday evening November 2nd around 6pm, and ending Sunday the 5th after a morning yoga session and brunch.  There is free time each day to explore the surrounding towns (Woodstock is a short drive away with great shops, art and cafes), go for a hike, or enjoy some down time. 
Email us with any questions!  Innerstrengthmgmt@gmail.com
---